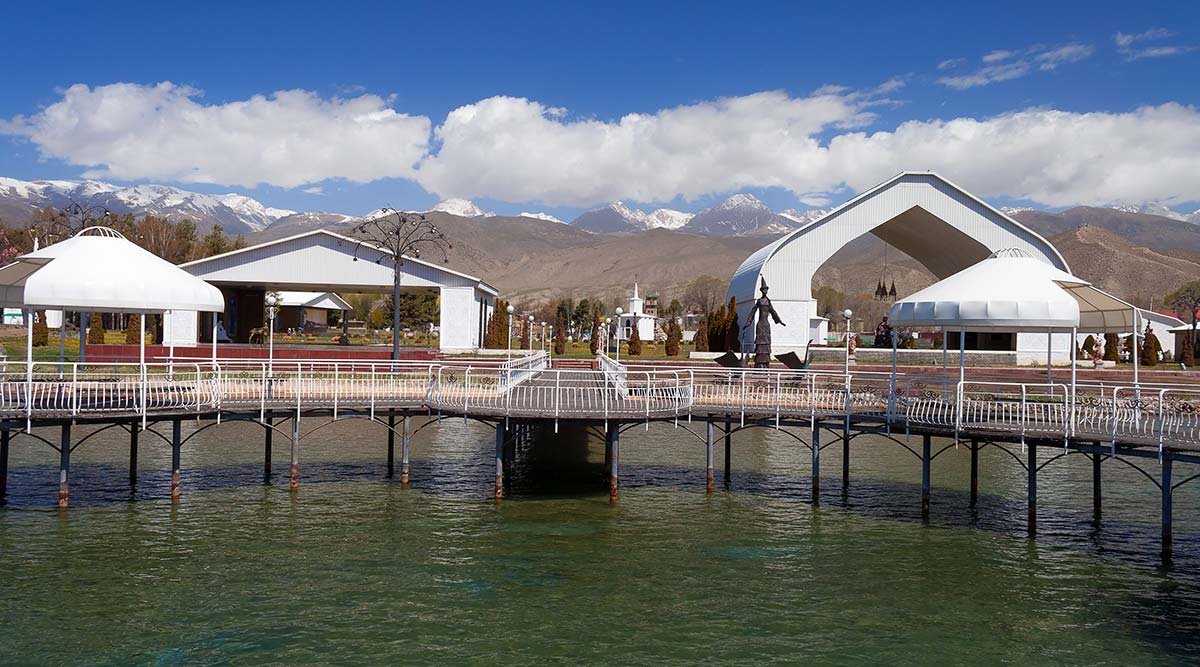 Bishkek is the capital of Kyrgyzstan and is one of the biggest cities in the country. It has a lot of different monuments that have been created to honor the heroes of the country and also their contribution to its freedom. There are a lot of places you can visit while in Bishkek. Some of them are as follows:
• Monument to Manas The Great
• Monument to Those Who Died For Freedom
• Monument to Chumgiz Aitmatov
• Vladimir Lenin Statue
• Erikindik Statue
Best Seller Bishkek Tour Packages
Victory Park in Bishkek
---
Victory Park or the Victory Square us located In the City of Bishek, Kyrgyzstan. It is one of the most famous monuments in the country which has been created to honor the victory of the Great Patriotic War. This old architectural marvel was created in 1984 and features a central area that has the eternal fire.
There is a statue of a woman who is eagerly waiting for her husband to return from war and three ribs that are made of red granite. The eternal fire is guarded by the National Guard of Kyrgyzstan, and the guard changing ceremony takes place every hour which is an event everyone should attend.
Nightlife & Night Clubs in Bishkek
---
Being a business center, Bishkek has a lot to offer. If you love the nightlife, then the nightclubs of Bishkek will just amaze you. From cocktails to dancing to music, the high energy of these clubs will keep your adrenaline pumping. Experience the peak of the elegance of the nightclubs of Bishkek by booking yourself a luxurious limo to go club hopping.
From Irish pubs to lounges to cafeterias, Bishkek has it all. The beautiful surrounding, the nightlife, clubs,and pubs of Bishkek will make your trip exciting and memorable.
FAQ's
Thinking about traveling in kyrgyzstan? Get ready for the adventure of a lifetime! If you are feeling nervous, or just have some questions – here are some of the answers I give to some of the most frequently asked questions about traveling in kyrgyzstan.
---
1IS IT HELPFUL TO KNOW RUSSIAN WHEN TRAVELING IN KYRGYZSTAN?
Knowing Russian is not necessary but it is of no harm speaking and understanding a few basic Russian words which can come handy. Although our staff and guides can speak fluent English and are always there to help you during sightseeing and excursions.
2WHERE CAN I FIND A GUIDE BOOK IN ENGLISH?
There is a place in Bishkek called City Books (город кни) г where you can find good guide books for your tour in Bishkek like Bradt Guide, Lonely Planet, Bishkek Today which tell you the best places to see and shop.
3WHAT IS THE LOCAL CURRENCY OF KYRGYZSTAN?
The local currency is called "som". 1 Indian Rupee is equal is approximately 0.98 som & U$ 1 will get you approximately 69.80 som.
4WHAT CURRENCY SHOULD WE CARRY TO KYRGYZSTAN?
You may carry US dollars or Euros which can be easily changed to local som at one of the numerous currency exchanges in the cities.
5WHERE SHOULD I EXCHANGE MY MONEY?
Rates in town vary depending on the shop you visit to exchange your money and Airports and Hotel Rates are not up to the mark. So, you can go to the market and find the shop that gives you the best price.
6WHAT KIND OF TOURISTS WOULD LIKE TO VISIT BISHKEK?
All types of tourists visit Bishkek ranging from Honeymoon couples, Small Family Groups, Large Families, Friends and even Corporate office people.
7WHAT IS THE STATUS ON THE AVAILABLITY OF INDIAN FOOD?
Bishkek city, the most popular tourist destination in kyrgyzstan certainly has a few authentic Indian restaurants that cater to Indian tourists and local patrons alike. Tourists on Bishkek Tour Package from India always have the option to eat authentic and delicious Indian meals.
8WHAT IS THE REGISTRATION REQUIREMENT?
When you arrive in kyrgyzstan, you need to register within 5 days of arriving and if you are arriving on a 30-day visa through the airport, then you don't really need to register. kyrgyzstan only requires you to register once upon arrival and you need not register for every city you visit. You can register at the Immigration Police office (OVIR) anywhere in kyrgyzstan.
9HOW ARE THE TRANSPORTATION FACILITIES IN KYRGYZSTAN?
The major cities in kyrgyzstan have nice and clean roads with smooth traffic. The highways have beautiful and multi lane roads for easy driving. The trains are generally safe, but you should be careful of your belongings. Blankets and sheets will be provided to you by a car attendant at the beginning of the trip and collected by the attendant at the end of the trip.
10SHOULD ONE DRIVE IN KYRGYZSTAN?
With such a good transportation system where you can go anywhere with plane, truck or bus at reasonable rates, it is avoidable to drive on your own. When in kyrgyzstan, one should opt for public transport.
11WHAT ABOUT THE PUBLIC FACILITIES AVAILABLE?
Pay a small fee and you can use the public facilities available in the city. Private facilities (those attached to restaurants and cafes) tend to be western-style toilets,

Contact us to book Bishkek
Offering Luxury Holiday Packages, International Holiday packages from India. You can contact our Customer Service Team between 10:00 a.m – 6:00 p.m (IST) To receive a response within 24 hours, please fill in the following details : All fields marked with * are mandatory:
---